Whether you like to share your cannabis accessories, or if you are a loner passionate about cbd flowers, in this article we will show you how to thoroughly clean the material that you keep so well in your box.
Now more than ever it is important to maintain hygiene in our day to day as an essential factor in the fight against the spread of COVID-19 and, of course, we must not forget our accessories for consuming cannabis.
Remember that grinders, vaporizers, bongs, small bottles for the conservation of hemp buds and so many others, constantly pass through our hands and go directly to our lips, both places where a source of infection can originate.
With this guide and the time you have available you can be the most neat cannabis lover on the face of the earth.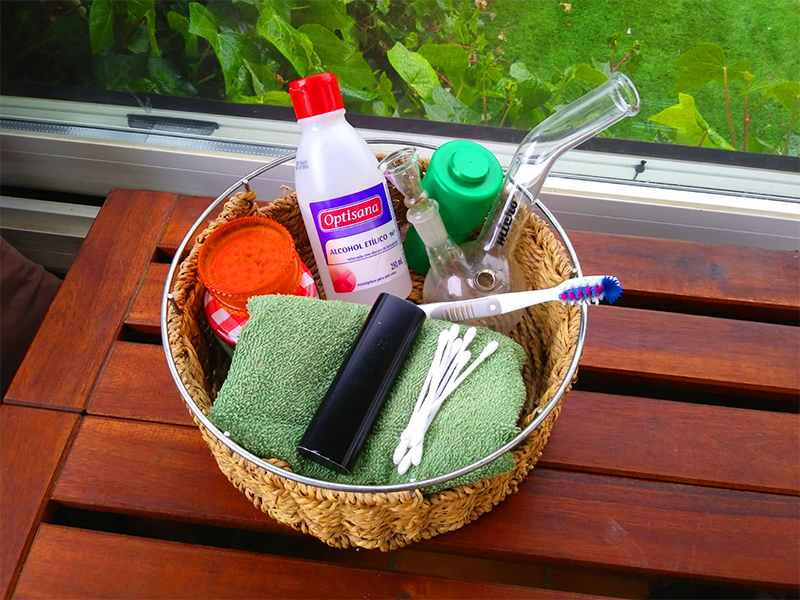 GRINDER CLEANING
Get ready, because your grinder will shine! Before cleaning, make sure you have the following materials:
Sanitary alcohol 91% (if your grinder is made of metal or wood)

Dishwasher soap (if your grinder is plastic)

Hot water

Towel or rag (clean)

Toothbrush

Ear swab

Container (bowl, lunch box …)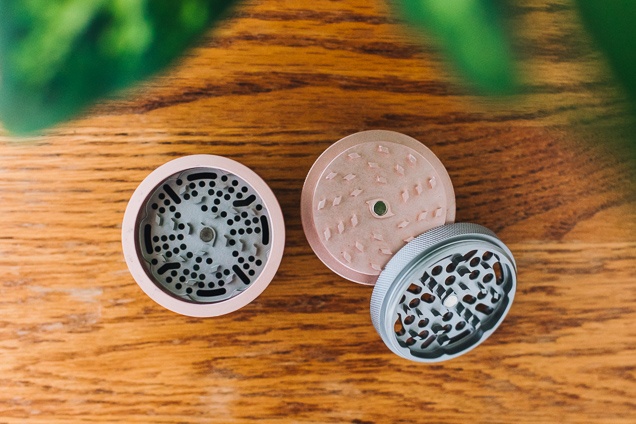 STEP 1: EMPTYING AND FREEZING
Completely empty your grinder and put it in the freezer for about 30 minutes. In this way, both the resin and the possible remnants of cbd flowers will come off more easily.
STEP 2: DEEP DISINFECTION
Disassemble the grinder and put it in the container. Remember that this step varies depending on whether your grinder is made of metal, wood or plastic.
Metal / Wood Grinder: Fill the container with 91% alcohol and make sure it covers all the parts of the grinder. Wait about 20 minutes. You will see that the alcohol has adopted a somewhat different texture due to the resin that has dissolved. Remember that the alcohol you should use must be at least 70% since it has been shown that lower percentages do not kill some viruses, such as covid-19.
Plastic Grinder: Fill the container with hot water and dishwasher soap. Let it soak for about 20 minutes, very soon you will see how some particles float in the water.
STEP 3: RINSING AND BRUSHING
Once the 20 minutes have passed, remove the grinder from the container and rinse it with plenty of lukewarm water to remove any traces of alcohol or soap. With the toothbrush and the ear buds you can remove the most adhering particles and thoroughly clean the less accessible corners.
STEP 4: DRYING
Using a clean towel or clean dish towel, dry the grinder pieces one by one. Before assembling it, spread the pieces on a dry towel for a long time. Keep in mind that if it does not dry completely, on the one hand, and especially if the grinder is metal, the water could damage the material itself and, on the other hand, if we want to use it immediately, our cbd flowers could be affected by humidity.
BONG CLEANING
If you are a fan of consuming your CBD flowers using a bong, we will also tell you how to leave it extra clean. Although there are different ways to do it that, which use different products, we are going to opt for the most effective against viruses, that is, sanitary alcohol of a minimum of 70%. Keep in mind that more ecological or natural products such as vinegar will not be useful either.
Be aware that tar and resin build up over time and can irritate your throat. If you keep your bong very clean you will enjoy softer and more pleasant puffs.
What do we need this time?
Sink and tap.

Coarse salt or rice.

Sanitary alcohol.

Gloves

Ear swabs.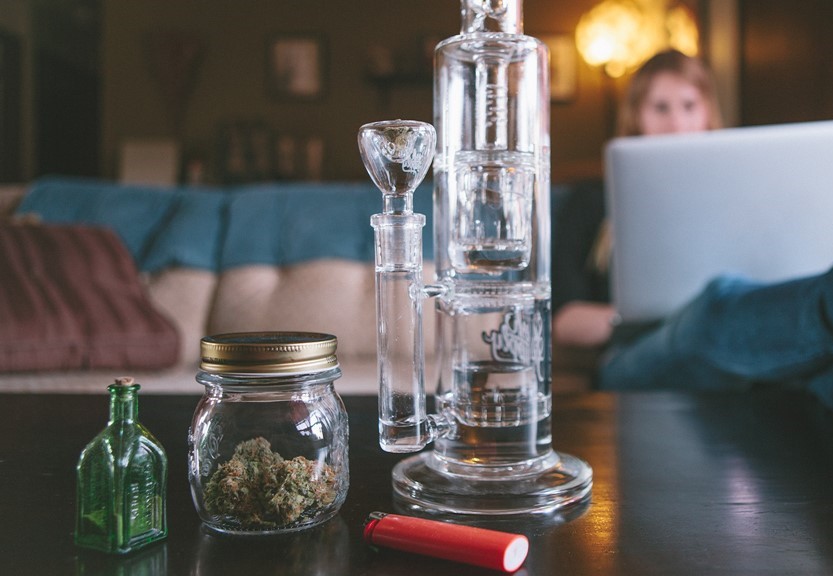 STEP 1: RINSING AND EMPTYING
Completely empty your bong of any remaining CBD flowers that may remain, as well as water. Thoroughly rinse all parts of the bong with lukewarm water. When all the remains have disappeared, fill the bong with lukewarm water and clean about halfway.
STEP 2: DISASSEMBLY AND REVIEW
Separate all parts of the bong, including the pipe and mouthpiece, so that the parts can be cleaned separately. Check each of them for cracks or breaks that could hinder the operation of the device and even cause damage to the lips. If there is a broken part it is advisable to replace it.
STEP 3: ADD THE SALT AND ALCOHOL
Add alcohol and coarse salt to your bong, this would be the most effective combination of products. If you do not have coarse salt, remember that you can also use rice.
Take the smallest pieces of the bong and clean them one by one with a swab bathed in alcohol.
STEP 4: SHAKE IT LIKE IS HOT
Use your fingers to cover the different holes of the bong and shake it for 5 minutes so that the formula goes through each corner of the gadget.
STEP 5: RINSE AND FINISHING TOUCH
Now you only have to empty the formula in the sink and rinse with plenty of water. If you are still not tired and want to put the icing on the cake, you can take a final step to remove the water stains that usually remain on the glass. Simply add warm water and lemon juice to the base of your bong and shake it again as you have previously.
Proceed to empty it again and rinse it again with clean water. When the quarantine is over, you can boast about your "new" bong, although you and I know that it is not.
CLEANING YOUR VAPORIZER
As you already know there are many and very different vaporizers; so, in this section we recommend you follow the manufacturer's instructions to the letter. In most cases it will be necessary to use sanitary alcohol, emphasizing the mouthpiece, which, as we already know, is the critical part in the spread of the virus.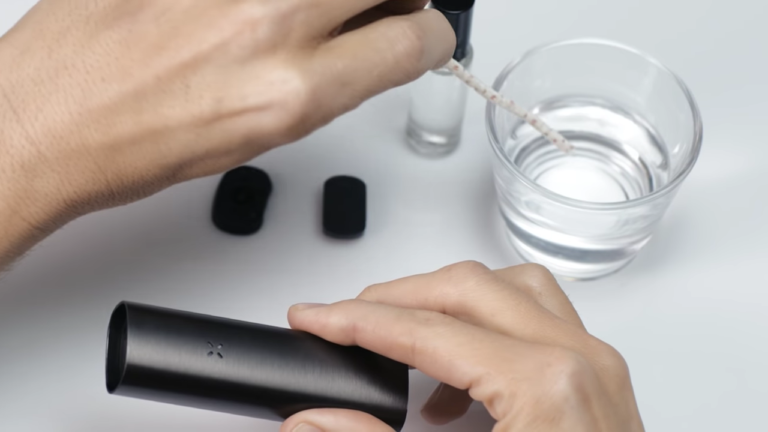 If you don't already have a vaporizer, perhaps the time has come to consider acquiring one of them for several reasons: no need to use tobacco or paper, vaporization is much healthier than inhaling by combustion, and most importantly, CBD flowers will last much longer, especially if you don't like mixing them with tobacco.
Which one do we recommend? Without a doubt, the PAX3, a compact, efficient and elegant vaporizer that you can carry in your bag, backpack or pocket, without attracting attention thanks to its polished anodized aluminum finish.
Remember that the consistency in cleaning your accessories will undoubtedly lengthen their useful life and, do not forget that a sanitized device will better preserve the flavor of each of the CBD flowers that you enjoy so much. In summary, having clean accessories helps to take your cannabis experience to the next level and savor the particularity of each CBD flower, each one unique and different.